The last time you were searching for what should have been an easy answer on a business website, did you find the answer to your question, or were you asked to submit a form, or send an email so they can get back to you later?
More than likely, you had to wait to get your answer.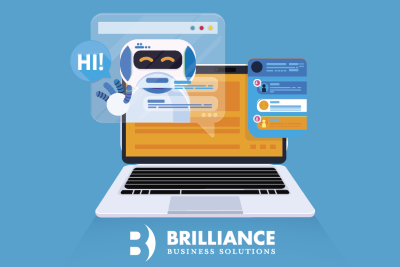 It can be frustrating when you need an instant answer to your query but you can't get it. It's disappointing. You will either leave for other sellers or send the email and expect a reply soon—which often takes more than 48 hours.
Business buyers increasingly seek to get questions answered themselves before they will talk to a sales rep. You can drive more revenue and increase customer loyalty by leveraging digital tools that enable customers to get the information they need and support them in the way they want to be supported. If you aren't already, start leveraging live chat on your website. Then, consider what role chatbots and machine learning may serve in the future.
What is Live Chat?
Live chat is software that enables visitors on your website to write messages to your customer service team and receive responses in real-time. Think of it like text messaging with your customer service team that starts from your website. Live chat comes with analytics and other customer service management tools that assist your team in managing the inquiries coming via your website.
How much does a live chat service cost?
Live chat costs range anywhere from $12 - $150 per agent per month depending on the features and functionality of your live chat service.
Does it work?
Yes. 😊 I remember when we first decided to add live chat to our website in 2016. One member of our Leadership Team was skeptical that anyone would use it. We are a service company, after all, and why wouldn't someone just fill out our form or call us if they wanted an answer. But they agreed we could set it up as the cost was low and we might as well test it out. Within a few weeks, we had our first lead via live chat, and it was a request for a quote for our services with a company that fit our target market. After that happened, everyone agreed it was worth the investment.
If you are skeptical, I recommend you set it up and try it out. The cost is low enough to make it an easy thing to try. Make sure your team provides adequate coverage and you are reviewing transcript logs and seeing what could be done to improve the conversations.
What happens if I don't have any operators available?
There will be a feature that shows you are offline and enables users to enter a message that is emailed to your team to respond to upon their return.
If you want to provide coverage when your team is out of the office, there are live chat response services that you can outsource. Some of them charge per resolution (not per interaction). Some examples of these live chat outsourcing services are Simplr, Call Center Guys, and Shift.
What are the use cases for live chat in B2B?
Live chat can be used to address any inquiry that would have previously come through a form or a phone call. It could be inquiries such as:
I am looking for a replacement part for ….
I need product XYZ by Tuesday. Will it get here in time?
Where is the closest distributor to me?
The person who previously ordered from our company no longer works here and I need to re-order the same items we have ordered in the past. Can you help me?
Is my product still under warranty?
What are chatbots?
A chatbot is an artificial intelligence system that simulates a conversation with a human.
How much does a chatbot cost?
There isn't an easy answer to this question. Chatbot development is still early in its product maturity. There are several service providers who will create chatbots on the market, but the pricing and quality of the solutions vary.
What are the benefits of a chatbot?
Chatbots can be used to reduce customer service costs. Used in conjunction with live chat agents the chatbot can cover a certain set of questions and when the conversations require additional support they can be transferred to your live chat agents. In addition, chatbots can expand your team's availability to be 24/7 for the questions they are designed to handle. Chatbots increase the speed with which customers can get their questions answered.
What is the use case for a chatbot at my company?
Review your live chat and your call logs for the questions you answer the most frequently. Your most frequently asked questions are a great place to start. It will be helpful if you can quantify the time and dollars that are currently spent by your team answering the most common questions. This will help to build the business case for your chatbot.
Where should I start?
If you have not yet implemented live chat on your site, start there. Live chat can be an easy place to start. You will need to make some decisions around how you will staff it and what expectations are for your operators, but from a technical implementation cost, it is inexpensive.
If you are already using live chat on your site today, consider taking the next step by implementing a chatbot. Look for the most frequently asked questions that would enable you to offload your live agents and provide faster answers to customers by automating.
If you are looking for an ecommerce systems integrator that will help you implement these solutions (and other improvements to your B2B ecommerce site), set up a time to talk with us. We would love to talk with you about how we help manufacturers and distributors grow their business through digital commerce.