According to Forrester Research, 70% of marketing executives believe personalization to be of strategic importance to their business. Why? Because they believed that personalization would lead to increased website traffic, more conversions, and additional revenue. In the same study, many respondents shared challenges to deliver relevant content based on real-time customer interaction.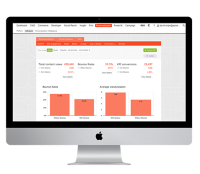 This is one of the reasons that we love Episerver Commerce. Episerver pairs a powerful commerce architecture with rich content management features including a robust personalization engine. Episerver Commerce enables marketers to quickly create rules that dynamically personalize content in real-time through visitor groups.
What is a Visitor Group?
A visitor group is a set of site users that are selected based on rules that site administrators set up within Episerver's web-based admin controls. You can base Visitor Groups on one or more properties.
You can define your own properties to use to select a user, or you can select from defined properties such as:
If a specific product is in their cart or wish list
If a product from a specific category is in their cart or wish list
The geographic region of the customer (ZIP code, state, or country)
How many times the customer has ordered in the last X days
If they have spent more than X in the last Y days
How many times the user has visited your site
If they have visited a specific page
If they have visited a specific category
The Company or Job Title from the users' profile
What URL they came from
What landing page they started on
Here is an example visitor group, we defined to target visitors who have a product from the Replacement Parts category in their shopping cart or wish list.
Personalizing Content
Marketers can quickly setup unique content to display to users in real-time, using content blocks and personalization by visitor groups.
Powerful Marketing Tools, Making Your Job Easier
Visitor groups and personalization controls are just one of the ways Episerver makes your site convert better, and the marketer's job easier. If you would like to learn more, or a see a demonstration of Episerver, feel free to give us a call at 414-425-4069 x150 or contact us online.