Milwaukee, WI – Mike Clausing and Drew Douglas, two of our amazing developers, received their Episerver 11 CMS certification. Episerver certification exams are challenging and test a combination of skills-based on-platform experience, theoretical knowledge, design guidelines and aspects of recent software releases.
To pass the certification exam for Episerver CMS, our devs demonstrated expert-level proficiency in key knowledge areas and best practices spanning technical architecture and installation, operation and configuration, and content modeling. Additional areas of testing include: personalization, globalization and authentication, integration and working with Episerver plugins.
Episerver partners are key to many customer implementations worldwide; certification demonstrates a significant commitment and investment by Brilliance to ensure our clients get the best return on investment for their digital initiatives. Episerver places great importance on certifications as it sets strict industry standards for quality assurance throughout Episerver's expansive partner network.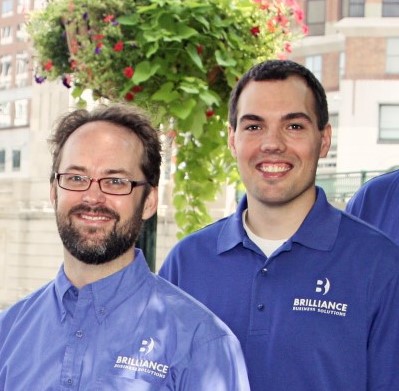 Episerver is an enterprise platform that enables integrated content and eCommerce capabilities to meet the needs of B2B companies, a key for Brilliance customers. Brilliance Business Solutions has been an Episerver partner since July 2013 with a variety of epi projects under our belt.
About Episerver
Episerver empowers digital leaders to easily create standout experiences for customers – everywhere they engage, and always with measurable business results. The Episerver Digital Experience Cloud™ unifies digital content, commerce, and marketing in one platform, including omnichannel solutions for smart personalization and intelligent campaigns. Founded in 1994, Episerver has offices in the US, UK, Sweden, Australia, Germany, Denmark, Finland, Norway, Poland, the Netherlands, Spain, South Africa, Singapore, Vietnam, and the UAE.
About Brilliance Business Solutions
At Brilliance, our mission is: To inspire our clients and team to achieve big things through web technology.
Based in Milwaukee, WI and in business since 1998, Brilliance Business Solutions has a long history in B2B, manufacturing, distribution, eCommerce, content, marketing and more. Brilliance enables clients to expand their sales while minimizing their costs, whether implementing web-based stores for replacement parts, portals for sales reps to check pricing and inventory, or eCommerce sites integrated with back-office systems.
More information on Brilliance Business Solutions' products and services is available at www.brillianceweb.com.