Along With Proven Capabilities of Implementation And Customer Satisfaction, Brilliance Business Solutions Has Met All Requirements for New Specialization Program
MILWAUKEE, WI August 7, 2018 – Brilliance Business Solutions, a leading B2B eCommerce developer based in Milwaukee, today announced it has been awarded elite Specialization classifications for Episerver CMS and Digital Commerce, enhancing its visibility and viability among Episerver's partner network.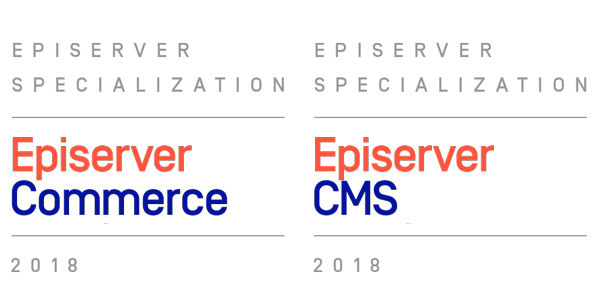 To become specialized, Brilliance met strict, verified requirements including having a minimum of three Episerver CMS and Digital Commerce service live sites, no fewer than three active certified developers, who have completed and passed Episerver CMS and Digital Commerce service training, and at least one customer case study. Of special note, Brilliance is the first North American development firm to receive these Specializations. The Specializations are valid for one year but can be maintained by adding additional customer live sites annually and maintaining three live sites at a time.
With the Episerver CMS and Digital Commerce Specializations, Brilliance will be better able to promote its Episerver expertise while potential customers can identify Brilliance as an organization with deep implementation experience to call upon for their specific needs. Brilliance's Specialization classifications will appear as additional "badges" in Episerver's searchable Partner directory to the Premium Partner level already attained.
"When Brilliance was presented the opportunity to participate in the Episerver CMS and Digital Commerce Specialization programs, it was an easy decision for us given our history with Episerver and our enthusiasm of showing potential customers how the product can help them create memorable experiences and add incredible value to their business," said Lori McDonald, CEO and President for Brilliance. "Our partnership with Episerver has been incredibly fruitful, as we have seen the significant impact that the platform has had for our clients. Driving revenue for our clients is why we are in business and Episerver helps us achieve this goal."
For Episerver, the Specialization program across five product lines (Episerver Digital Experience Cloud, Episerver CMS, Episerver Commerce, Episerver Campaign and Episerver Personalization) allows it to track customer satisfaction with Partners and monitor Partner capabilities to promote accordingly.
"Specialization classification is an impressive undertaking and speaks to Brilliance's track record of hyper-successful projects using Episerver CMS and Digital Commerce," said Karen Chastain, Director of Global Alliances and Partners for Episerver. "These Specializations, in particular, show business customers that Brilliance understands the value of handing over the most productive platform to them when the initial project is complete, so anyone using the CMS is able to easily create and use compelling content across channels. They also understand the value of empowering retailers to easily create high-value buying experiences thanks to relevancy from personalization features and the ability to nurture buyers through built-in digital marketing capabilities – without juggling multiple platforms to do so."
##
About Brilliance Business Solutions
Based in Milwaukee, WI and in business since 1998, Brilliance Business Solutions is united by hard work in carrying out their mission. With a long history in B2B, manufacturing, distribution, eCommerce, content, marketing and more, Brilliance enables clients to expand their sales while minimizing their costs. Whether implementing web-based stores for replacement parts, portals for sales reps to check pricing and inventory, or eCommerce sites integrated with back-office systems, Brilliance provides tools that allow businesses to compete on a global scale.
Brilliance Business Solutions Contact:
Jared Hackbart
Director of Sales
+1 414 425 4069
jjhackbart@brillianceweb.com
About Episerver
Episerver empowers digital leaders to easily create standout experiences for customers – everywhere they engage, and always with measurable business results. The Episerver Digital Experience Cloud™ unifies digital content, commerce and marketing in one platform, including omnichannel solutions for smart personalization and intelligent campaigns. Founded in 1994, Episerver has offices in the US, UK, Sweden, Australia, Germany, Denmark, Finland, Norway, Poland, the Netherlands, Spain, South Africa, Singapore, Vietnam and the UAE.
Episerver Contacts:
Rachel Teitt
Director, Analyst and Public Relations, Episerver
+1 614 817 1847
rachel.teitt@episerver.com
Amberly Dressler
Manager, Analyst and Public Relations, Episerver
+1 714 851 5794
amberly.dressler@episerver.com