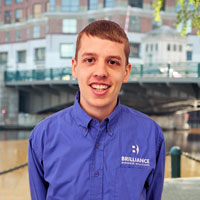 Milwaukee, WI – On August 10, 2017, Marcus Walz received the Episerver 10 CMS certification. Prior to taking the test, Marcus gained experience on the platform through work on the Brilliance Business Solutions website which is being migrated to the Episerver platform.
"It is always exciting when a team member gains a new certification and we are proud to have a fifth Episerver Certified developer on the team. Marcus joined the Brilliance team just a few months ago and has embraced the Brilliance core values and loves learning," shared Lori McDonald, President and CEO at Brilliance Business Solutions.
McDonald also stated that, "Brilliance Business Solutions has been an Episerver partner since July 2013, and with this fifth developer certification we have completed an important step in becoming an Episerver Premium Partner."
Episerver is an enterprise platform that enables integrated content and eCommerce capabilities to meet the needs of B2B companies, a key for Brilliance customers.
Episerver was founded in 1994 in Stockholm, Sweden. The platform is popular in Europe and continues to grow in the United States. As one of the few Episerver partners in the US with a focus on B2B eCommerce, Brilliance is committed to ongoing learning and development to utilize all the features that the Episerver platform provides to administrators and end users.
About Brilliance Business Solutions
At Brilliance, our mission is: To inspire our clients and team to achieve big things through web technology.
Based in Milwaukee, WI and in business since 1998, Brilliance Business Solutions has a long history in B2B, manufacturing, distribution, eCommerce, content, marketing and more. Brilliance enables clients to expand their sales while minimizing their costs, whether implementing web-based stores for replacement parts, portals for sales reps to check pricing and inventory, or eCommerce sites integrated with back-office systems.
More information on Brilliance Business Solutions' products and services is available at www.brillianceweb.com.