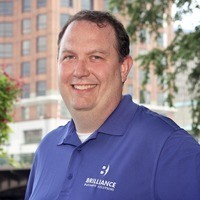 Milwaukee, WI – Relying on theory, training and practical experience to pass a challenging proctored exam, David McDonald, Director of Development at Brilliance Business Solutions, has attained Episerver CMS certification.
With the certification, developers prove their skills are current with Episerver CMS – the most productive CMS and marketing platform. In the same way Episerver CMS enables marketers to manage content and marketing campaigns all in one screen, Brilliance leverages Episerver to empower mutual customers with the ability to create the perfect experience for each website visitor through powerful layout tools, advanced personalization, testing and more.
To ensure Episerver credits only top-tier developers with the CMS certification, McDonald had to prove expertise in product knowledge, installation, operation and configuration, content model, website creation and advanced concepts. Some of the testing, for example, included the ability to deploy A/B testing and forms as well as website creation using technical architecture and personalization.
Episerver's network of more than 880 partners worldwide provide support and service to customers worldwide and certification confirms a high level of experience and expertise with Episerver CMS.
"With a 60 percent pass rate for the CMS exam, certification not only proves that Brilliance is held to strict industry standards and has appropriate training, but it is also celebrates a significant milestone in a developer's career and their ability to successfully support client organizations as they leverage Episerver CMS," said Karen Chastain, Director of Global Alliances and Partners for Episerver. "We want to be the first to congratulate David McDonald on this achievement, as it indicates a strong commitment to deploying first-class digital experiences on Episerver CMS."
About Brilliance Business Solutions
Based in Milwaukee, WI and in business since 1998, Brilliance Business Solutions is united by hard work in carrying out their mission. With a long history in B2B, manufacturing, distribution, eCommerce, content, marketing and more, Brilliance enables clients to expand their sales while minimizing their costs. Whether implementing web-based stores for replacement parts, portals for sales reps to check pricing and inventory, or eCommerce sites integrated with back-office systems, Brilliance provides tools that allow businesses to compete on a global scale.
Jared Hackbart
Director of Sales
+1 414 425 4069
jjhackbart@brillianceweb.com
About Episerver
Episerver empowers digital leaders to easily create standout experiences for customers – everywhere they engage, and always with measurable business results. The Episerver Digital Experience Cloud™ unifies digital content, commerce and marketing in one platform, including omnichannel solutions for smart personalization and intelligent campaigns. Founded in 1994, Episerver has offices in the US, UK, Sweden, Australia, Germany, Denmark, Finland, Norway, Poland, the Netherlands, Spain, South Africa, Singapore, Vietnam and the UAE.
Episerver Contacts:
Rachel Teitt
Director, Analyst and Public Relations, Episerver
+1 614 817 1847
rachel.teitt@episerver.com
Amberly Dressler
Manager, Analyst and Public Relations, Episerver
+1 714 851 5794
amberly.dressler@episerver.com