Milwaukee web agency Best in eCommerce, 2014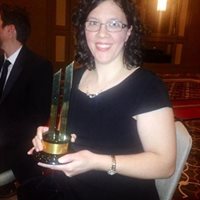 NEW ORLEANS, LA - Brilliance Business Solutions earned Best eCommerce Company at the Business Excellence Awards on Friday January 31, 2014 at the Hyatt Regency New Orleans.
The Business Excellence Awards honor the "best of the best" results in small and medium-sized businesses from around the world, and showcases exceptional results for business owners, entrepreneurs, their teams and their companies.
ActionCOACH Founder and Chairman Brad Sugars presented both awards to the President of Brilliance Business Solutions, Lori McDonald.
"I am proud of all of the hard work our team has put in to help our customers achieve big ambitions using eCommerce. It is great to have this recognition with the Best eCommerce award. Many companies are recognizing that selling online is something that must be a part of their business model and we believe we're well-positioned for market growth ahead," McDonald said.
The 2014 Business Excellence Awards and the 2014 Business Excellence Forum are sponsored by ActionCOACH, the world's number one business coaching firm. The events are part of the company's on-going commitment to innovation, business excellence and business re-education for owners and teams who operate and work in small-and-medium sized businesses.
"Working with ActionCOACH since 2006 has helped me to get clear on my goals, and has held me accountable to constantly improving our business – building processes that ensure customers have a consistent, quality experience every time," McDonald said.
In addition to the awards ceremony, the Business Excellence Forum featured seminars with top speakers in the world of business, including the Leadership Guru Marshall Goldsmith and ActionCOACH Founder and ChairmanBrad Sugars, as well as breakout sessions with top business coaches from around the world.
To learn more about the Business Excellence Awards and Forums, go to http://www.thebusinessexcellenceforums.com.
To view this press release in its original context, go to http://news.actioncoach.com/newsrelease-cid-1-id-10974.html