Karen Van Ert Expands Firm's Strategic Client Services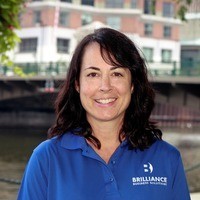 Milwaukee, WI - Brilliance Business Solutions, a provider of web development and eCommerce solutions, announced eCommerce marketer Karen Van Ert joins the firm to assist Brilliance clients to grow their B2B eCommerce business through digital marketing.
"As we look to enhance our client services, we are excited to have Van Ert join our team," said Lori McDonald, CEO of Brilliance. "We're already known for delivering great technical eCommerce and content solutions for manufacturers and distributors. Karen's pragmatic marketing approach and focus on ROI and measurable results are a natural extension of our services and will continue to support our goal to get projects done right the first time."
Brilliance's Director of Business Development Jay Schneider notes, "Van Ert's expertise is a valuable addition to our current capabilities. With Karen's wealth of digital strategy, branding and eCommerce experience, we look forward to helping our B2B clients reinvent their businesses."
On working with Brilliance clients, Van Ert adds, "I enjoy working with companies and helping them identify opportunities to grow their businesses efficiently. It is exciting to build programs that have proven return and are win-win for everyone involved."
Brilliance looks forward to collaborating with Van Ert, who can use her wide range of experience and skills when working with prospective clients. McDonald notes, "With Brilliance focusing more on marketing functions in the future, this is an opportune time for Brilliance and Van Ert to brainstorm new ways to combine B2B eCommerce and the ever-changing world of digital marketing."
About Brilliance Business Solutions
Milwaukee-based Brilliance Business Solutions has provided clients with web development and eCommerce expertise in manufacturing, distribution and content marketing since 1998. Brilliance enables clients to expand their sales while minimizing costs, whether implementing web-based stores for replacement parts, portals for sales reps to check pricing and inventory, or eCommerce sites integrated with back-office systems.
More information on Brilliance Business Solutions' products and services is available at http://www.brillianceweb.com.