The Brilliance Proven Process
An important first step is creating clarity around the value of the solution we are building for your business. We do that by building a business case for the solution and working with your team to validate the case. This helps give us a common language about what success looks like for your company and helps to prioritize work according to what areas of the project will drive the most value.
Following your acceptance of the business case, we start our scoping process. During this step, we:
Ask questions and dig into the details of your request
Document your answers
Ask about issues we've seen trip other projects up
Recommend best practices based on our past experience
Based on your replies, we build a document that will serve as our guide for the project. Once this is done, the project falls under our on-time and on-budget guarantee.
Next, we are into our development process. To ensure we deliver on-time and on-budget, we have weekly project status meetings. We use a web-based project management tool where all of the stakeholders have access to see the tasks and communication related to the project. Your website is also available for your review early in the development process and a continuous integration environment is used to allow you to see development progress in real-time. We ask for your feedback early and often as we want to eliminate any surprises. Depending on the project, we may do a practice launch (aka a "mock go live") to ensure your actual launch goes off without a hitch.
After your site goes live, we begin our Forced Success phase. Why? Because the launch of your site is just the beginning. To optimize the revenue driven from your website, on-going optimization will be needed. We handle this through support plans where we work with you to improve your site performance, security, and digital marketing. We review your site's performance against your original business case and see how you are tracking against your goals. If certain areas aren't on track, we look at what is necessary to get you there.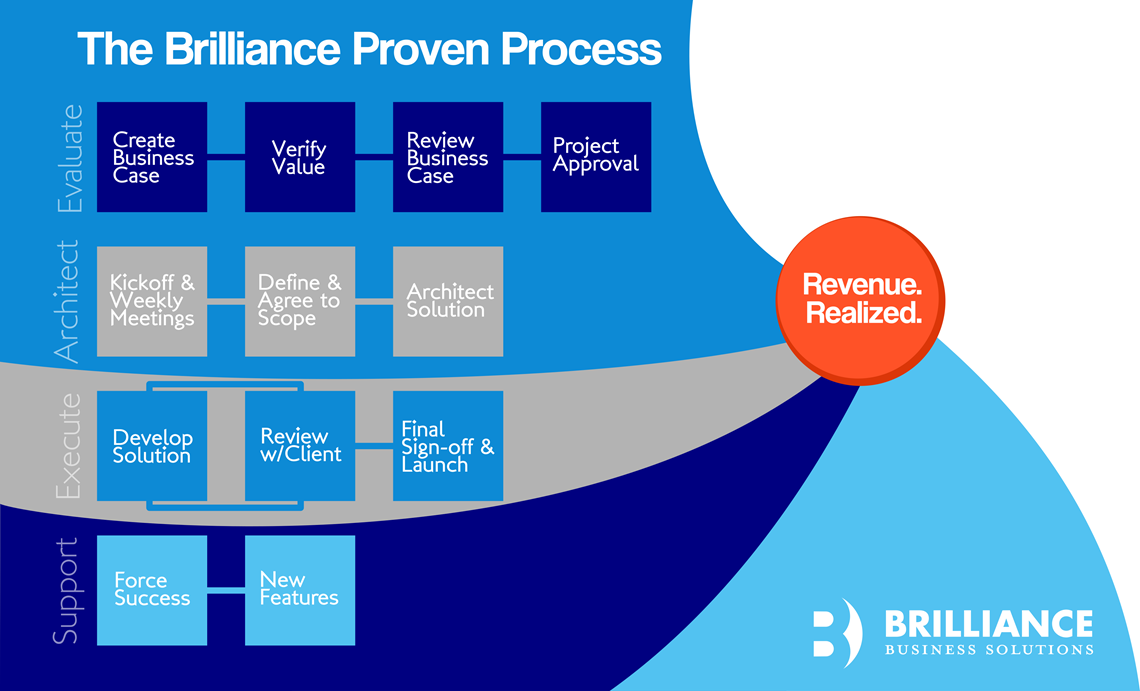 Interested in working with a team that guarantees on-time, on-budget projects? Contact Brilliance for a free consultation. Get Started.