Over 600 marketers, developers, and business leaders gathered recently at Episerver Ascend 2017 to discuss the latest trends in the online experience. Attendees included Episerver customers like Walmart, American Nurses Association, Polaris Industries and Toppers Pizza. Keynote presenters included Scott Hanselman (awesome!), Mel Robbins and her "Five Second Rule," and The Passing Zone (juggling, comedy, and fun!).

It's good to mix some fun in with all of the great learning, and the Episerver Rising party on Tuesday night fit that bill. I normally wouldn't attempt to get into a nightclub like this but Making Waves sponsored this Episerver party where they rented out the Marquee nightclub at the Cosmopolitan. It was fun to see the Epi execs, partners, and customers all out on the dance floor, and join them for a little bit.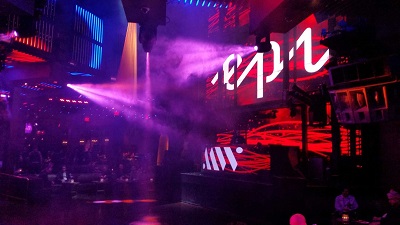 (Image Credit: @MakingWaves https://t.co/Ljz9YbHwrJ)

As for learning, breakout sessions throughout the three-day conference hit on a number of topics, and I want to share some of the key areas that emerged. A few of the main trends were women leadership in the tech space, cloud hosting, and artificial intelligence. You can implement some of these trends in your company's eCommerce experience right now, and I'll show you how.

Women In Leadership

Tuesday was filled with women keynote speakers, as Episerver continues to show their commitment to celebrating women in leadership. (For more on that, see Episerver's Digital 99's podcast series featuring women leaders in marketing and IT.) As a woman and a CEO of an eCommerce development company, I am proud to see Episerver intentionally creating space to hear from women in the technology space. Computer programming, including web development, is still a largely male-dominated field. We need more women and minorities in technology because diversity enables us to create something better than we could have otherwise. In addition, we have a talent shortage in the US in computer science. We need women to pursue computer science, or we are missing out on half of our potential labor force.

As a part of Epi's focus on women leaders, Tuesday afternoon featured a panel of women talking about content management and eCommerce. Here are some of my favorite takeaways from that panel:
Bernadine Wu, Founder, and CEO of FitForCommerce said, "Data is like a rock star. If not managed well, it will wreck the place." This made me smile. Customers often underestimate the importance of data on their projects. Working with data effectively requires plans and processes specifically around the data itself.
Anjali Yakkundi, Senior Analyst from Forrester said, "It's not all just about data, personalization of customer experience is a blend of art and data science." Examples like SticthFix were shared, noting how StitchFix uses both data scientists and human stylists to drive their service.

Cloud Hosting

The world continues to move towards providing hosting services where the buyer does not have to be concerned with technology, hardware, software or patches. They just need to pay for their website or application to be up and the provider needs to figure out the rest. This is the promise that cloud hosting attempts to fulfill.

Episerver has been continuing to invest in their cloud offering that is built on Microsoft Azure. In 2016, Epi released an app within the Azure marketplace that allows users to build a sample site on Epi's cloud platform to test out Epi's cloud capabilities.



Where are you hosting your site? Depending on the number of sites, servers and your service level requirements, you may want to consider hosting your site in the cloud. When you look at the costs of maintaining hardware, upgrading servers and monitoring them, there is an efficiency in having that managed for you.

Artificial Intelligence and Machine Learning

What does artificial intelligence have to do with eCommerce? More than you might think. One common issue for users of powerful eCommerce software platforms is that you have so much data that configuring all the different variations of content you want to display is too time-consuming. As a result, many companies fail to effectively implement the powerful personalization capabilities that exist. Or when they do implement personalization, it is inexact.

Artificial intelligence to the rescue!

Instead of manually creating the groups that your site will be personalized to, what if it could personalize itself for you? And what if it could improve its recommendations over time? Episerver Perform does exactly that.

Episerver Perform (built on Episerver's recent acquisition of Peerius) will recommend products for your commerce experience based on the data on your site. It also learns from how users interact with the recommendations to provide better options in the future.

Did the user click on one? Did the user buy? That information is gathered and used to improve the recommendations. This has a clear and easily seen ROI. But artificial intelligence won't simply be limited to product recommendations, Episerver's future product roadmap includes a platform that will recommend content to users and learn from their behavior. When these AI capabilities are combined with Episerver's recent marketing automation acquisition (Optivo), the capabilities will support omni-channel personalization.

Implementing the Trends

A lot of times companies aren't sure if they have enough data to use some of the personalization tools that are available. But you can put what you have to use!

Here are three ways to get started:
If you are selling products online today, the one thing you can put to use right away is the product recommendation feature (Episerver Perform). They have a Missed Opportunities report that you can run to see what revenue you might be missing and the potential return for implementing Episerver Perform. You can use this even if you aren't on Episerver!
Episerver Find, offering powerful search capabilities, has been around for a while. However, from talking to people at the conference and from personal experience, many people are either not using Epi Find today, or are not fully utilizing Epi Find's capabilities. With the rise of mobile, search is growing in importance, and Epi Find can help you drive more revenue and conversions. Implementing this feature helps to ensure that it is quick and easy for people to find what they need.
Create one or two visitor groups, personalize some content and learn from it. Don't get overwhelmed by the entirety of what you might do. Test it out and see how it works for you.
Would you like some help? As an Episerver Solution Partner, we would be happy to help you optimize your Episerver site to drive more revenue and conversions. Contact us for a free consultation today.