With the recent release of version 7.5 for both their Commerce and CMS platforms, Episerver continues to demonstrate their commitment to integrated content and eCommerce solutions.
Enhancements in 7.5 Commerce
Simplified Catalog Management for Marketers
Episerver CMS is known for its ease of use, and Episerver has brought the same simple editing interface to Episerver Commerce. You can add media to your products with drag-and-drop actions. Providing the ability to quickly create campaigns for Commerce, marketers choose Episerver because it enables them to create great looking content, sell more products, and is optimized for mobile.
Improved Inventory Management
You can now track inventory across multiple warehouses by SKU. Episerver Commerce can be extended to enable you to fulfill orders from different warehouses depending on your unique business rules and requirements.
Expanded International Commerce Features
In Episerver 7.5 Commerce, multi-market capabilities enable businesses to change site functionality depending on the market. In addition to allowing you to map products to specific markets (maybe you don't sell the air hammer in Southeast Asia), you can setup different pricing, currency, and discounts by the market, and you can use inventory data from different warehouses by the market.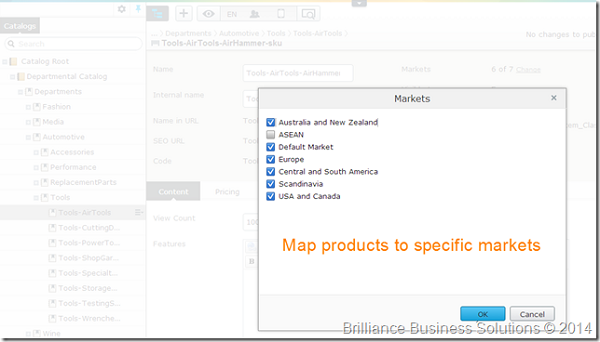 Features We Continue to Love
Self-Optimizing Content Blocks
Episerver CMS enables marketers to define pieces of content that can easily be re-used throughout the site with a simple drag and drop. Even better, you can define multiple content blocks for the same area and test the content to see which gives you the best conversion rate.
Tiered Pricing
Since most of Brilliance's customers are implementing B2B commerce, we know that customer specific pricing is one common requirement lacking in most eCommerce platforms. Typical B2B pricing structures are defined by a series of business rules, with the ability to override pricing for specific customers on specific products. The strength of Episerver Commerce's tiered pricing is that the underlying architecture is a great match for the business rules and overrides that are typically required in the B2B space.
Side-by-Side Editing and Analytics
The Google Analytics add-on for Episerver enables you to view data on the number of visits and time spent in a side panel for the pages, as you are editing them. This is one more example of how Episerver makes it simple for marketers to get the information they need and quickly optimize their site for top results.
Personalization
Visitor Groups enable you to easily personalize your site for your visitors in real-time, based on what your site learns about them while they are on their site. The beauty is that this can be used not only for your content but also for your eCommerce site. It is a single, integrated approach.
Would You Like an Episerver Demo?
Are you considering upgrading your eCommerce or CMS platform? As a Visionary on the Gartner Magic Quadrant, with mobile-first design, and integrated content and eCommerce, Episerver 7.5 is a platform you can leverage to lead the market.
Contact us today at 414-425-4069 x150 to see a personalized demo and consider how Episerver might work for your company.