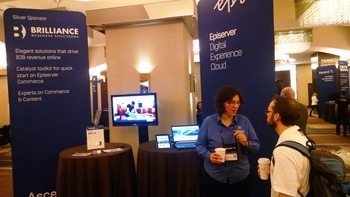 Are you an Ektron or Episerver user, but weren't able to attend Episerver Ascend in Las Vegas? Or are you considering becoming an Episerver customer? My team and I traveled to Vegas for 3 days at the beginning of November to be at the conference, and I wanted to share some of the exciting things we learned.
There were over 500 Episerver customers, partners and staff at the Cosmopolitan Las Vegas for a conference filled with insight from industry analysts, a preview of new feature releases of interest to marketers and developers, hands-on labs, and customer case studies. Brilliance was proud to be a Silver Sponsor at Ascend. It was a great event filled with more than 80 breakout sessions, labs, and keynotes, providing opportunities to connect to people in the Episerver ecosystem, see how others are using Episerver, and learn more about what is coming up for the product.
Here are 5 of my favorite ideas and features from Ascend.
1. Episerver Projects
Episerver projects are the feature I was the most excited to hear about at Ascend. Imagine being able to design several different pages of content, changes to your home page, changes to multiple content blocks – all without impacting your currently live site. With the release completed in October 2015, the Episerver Projects feature enables a marketer to create, edit and publish multiple content items at once.
If, for example, you are preparing for a new product launch, you can create a new project within Episerver and as you edit various pages they will all be tracked as a part of this new project. Your colleagues can collaborate with you on this new project. When it's time to launch your new product, you can push all of those changes live with the click of a button, or better yet, you can schedule the project to go live at a specific date and time.
While you are working on it, you can still switch back and make changes to the content on your live site without issue.
2. Forms Add-on
Currently, in Beta, the Forms add-on for Episerver enables web administrators to create and modify forms independent of their programming team. The Forms Add-on allows users to drag-and-drop form elements onto the page, store form submissions into the database, send submissions via email, conveniently view submissions in the web admin, and export submissions to CSV. One of our developers learned about the new Forms add-on in a hands-on lab lead by Jeff Wallace. As an Episerver customer, you will be able to use the Forms add-on to create contact us forms, lead generation forms, product registration forms, and more. You can build a form via a drag-and-drop interface. You won't need a developer to create the form, but to get the most from the form you may choose to integrate the form with 3rd party tools and applications, this is where you can get a developer involved.
3. Episerver Find
In a world where your on-site search is increasingly important, Episerver Find offers a framework for building a powerful search that enables you to quickly get customers to the product or information most appropriate to them. Episerver Find offers powerful search analytics, the ability to promote specific content for searches (best bets), faceted navigation within search results, and the ability to create automatic landing pages based on the tags and facets setup within Find. While Episerver Find itself is not new, Episerver has improved the resources available to developers in working with Find.
4. Pre-built Integrations
With the merger of Ektron and Episerver, the new Episerver is leveraging Ektron's Digital Experience Hub, enabling customers to build standout experiences with a best-of-breed approach, using connectors to leading enterprise applications. At Ascend, Bob Egner led the 'Introducing Digital Experience Cloud Fall Release for Marketers' which shared the release of Episerver's Sharepoint connector in the Fall '15 release. The Sharepoint connector enables you to automatically sync documents between Sharepoint and your Episerver media repositories, enabling you to mirror documents in Sharepoint and Episerver, as well as cherry-pick which documents from Sharepoint you want to display in Episerver. In the Spring '15 release, Episerver offered 8 new marketing automation connectors. These allow you to track site visitors, use opt-in forms to collect visitor information and personalize users experience from the information that is gathered. Episerver marketing automation connectors support Eloqua, ExactTarget, HubSpot, Marketo, Microsoft Dynamics CRM, Pardot, Salesforce, and Silverpop.
5. User Experience – Offline and Online
As a computer nerd, I get excited by features, like the ones I've highlighted here. But competing in online business requires more than cool new features, it requires strategic thinking. One interesting concept that was raised in multiple sessions was the idea of mapping your customer journey – not only online, but their total customer experience.
Scott Liewehr, Industry Analyst at the Digital Clarity Group, shared in the closing session, "It's not just about new digital experiences, it's about digitally powering experiences." This is something you can put into practice today. Use your existing business process maps (or organize your team to create new ones) and look for places in the process where you can use digital interactions to add value for your customer.
A Powerful Toolkit
While the above features and takeaways were the things that I most wanted to share from Ascend, the Episerver platform as a whole has many features that I am excited about, including personalization and support of strong SEO. Episerver also continues to develop new features, like campaigns and enhanced discount functionality, which point to an increasingly strong framework to support you in your future eCommerce growth.
"Digital Darwinism is unkind to those who wait," shared Ray Wang, the keynote speaker at Episerver Ascend. With that in mind, let's get started! Consider how your company can leverage the toolkit that Episerver offers to build a powerful digital experience that supports your customer every step of the way.