As a current Ektron customer, you may be uncertain how the Episerver/Ektron merger will affect your company's digital marketing efforts. As you probably know, Episerver and Ektron merged in January 2015, and the new company is branded as Episerver. What will this mean for customers on both platforms? Will you have to make major changes to your online platform? How do you know whether it is time to upgrade?
The Product Roadmap
Episerver has made it a priority to continue supporting users on the platform they are on today. There will, however, be some changes as they strive to offer the strongest features from each platform to the other. For example, they are already supporting the addition of Episerver Commerce to the Ektron Content Management System.
The good news is that Ektron will continue to be supported, with ongoing planned releases at least for the next few years. However, staying on Ektron isn't a viable solution for the long run as upgrades and support will dwindle over time.
Meanwhile, Episerver is working toward the release of a new product line this fall, with upgraded features. They will continue to improve the Episerver platform and encourage Ektron users to make the switch.
So, if you are going to upgrade from Ektron to Episerver, at what point do you make that switch? Here are some comparisons to help you make the right decision for your company.
eCommerce
A major determining factor in the timing of your move to Episerver should involve the consideration of eCommerce for your business. If you are currently using Ektron eCommerce, you are most likely already looking for an improved experience. The great news is that Episerver has a well-architected commerce platform that delivers engaging experiences for your customers. So if eCommerce is a key initiative in your business strategy, you should be taking a strong look at Episerver Commerce and incorporating that into your web development plans as soon as possible.
Episerver eCommerce
Complex pricing structure support
Framework supports custom checkout flow and business rules
Powerful promotions engine
Ability to edit product information from a product page preview screen
Ektron eCommerce
Supports different pricing by quantity but not complex pricing rules
Promotions require a coupon code and the discount structure is limited in scope
Product information is edited from the admin user interface, which is somewhat tedious to navigate

Figure 2 - Episerver Promotion Creation Screen
If eCommerce isn't a priority in your current business strategy, or it is a priority but you have already found another solution that you can live with for today, the timing of your move to Episerver is dependent on other parts of your web strategy. Here are some of the requirements that we frequently hear from customers, and how Ektron and Episerver stack up.
Mobile
Mobile is a key part of the online strategy for B2B marketers. Is your website mobile responsive today? If not, redesigning to support mobile can offer key benefits including improved Google rankings, more traffic, more sales, and more clients interested in your services.
Episerver Mobile
Episerver offered the first native mobile-first combined content and commerce platform
Episerver offers the ability to quickly preview content in mobile devices from within the editor
Ektron Mobile
Mobile implementations are more difficult due to HTML added from Page Builder
Mobile device preview is available within the Ektron editor, but it takes more steps to get there
Internal Site Search
In a world where visitors use search to navigate your site and 85% of a their attention is on the top result returned from your search, your internal site search needs to be great. How effective is your internal site search today?
Ektron and Episerver's internal site search are fairly similar now that Ektron has the ability to add Episerver Find.
Episerver Internal Site Search
Episerver Find is a powerful search tool, available as an add-on, that offers autocomplete, search statistics and results optimization, faceted search and automatic landing page creation.
Episerver's built-in search (Lucene) can also incorporate other providers, such as Solr to enhance functionality.
Ektron Internal Site Search
Episerver Find – This powerful search add-on is now available to Ektron sites as well.
Alternative search providers include Solr and Microsoft Search Server.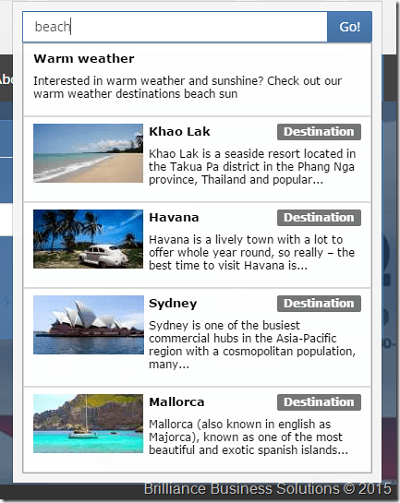 Site Editing
When multiple people are working on the same platform, it is important to be able to manage who is doing what. How many editors do you have working on your site? What information should they be able to edit? How easy is it for them to make their changes?
Both platforms have similar capabilities when it comes to managing multiple users and their access. The primary difference is in the ease of editing content.
Episerver Site Editing
Limit site editors to specific areas.
Ability to use content blocks to simplify editing.
Intuitive admin user interface.
Offers the ability to test different content and automatically publish the best version through self-optimizing content blocks.
Ektron Site Editing
Limit site editors to specific areas.
Ability to use content blocks to simplify editing.
The admin user interface is more dated and difficult to work with.
Spec Sheets and Product Documentation
Providing spec sheets and supporting content will give customers confidence in purchasing from you. There are often complicating factors when providing supporting documents such as multiple languages. How much supporting content exists that would benefit your organization if you could share it online?
Episerver Documentation
Drag-and-drop images and documents into the media library for use throughout the site
Document versioning is tracked through the Versions gadget
Ektron Documentation
To add multiple documents at once requires Internet Explorer
Drag-and-drop is possible with Firefox but requires a plug-in
A version history is kept so that you can restore to an earlier version
Using Analytics to Improve the Experience
In the online world, there is a lot of data available to us about the user's behavior, and we can use that information to improve their experience. Personalizing a user's experience can help drive more results via your website.
Episerver Analytics
Dynamically customize the content users see based on their behavior using personalization features with visitor groups.
The Google Analytics gadget for Episerver enables you to quickly view analytics data from within Episerver.
Ektron Analytics
Offers personalization features via personas in the Marketing Suite
Offers a Reports section with Analytics information, but it is more difficult to move between editing and seeing analytics.
A Path Forward
If you are considering a move from Ektron to Episerver, you probably have a number of questions. We are happy to help. We would love to show you a demo of Episerver, learn more about your site, and help you determine when the move from Ektron to Episerver makes the most sense for your business. Contact us today at 414-425-4069 x150 or via our free consultation form.