So much effort is put into the sales process on your eCommerce site. It is the key functionality of your site, however, statistically, only 2% of people make a purchase on their first visit to your site. What do you do with the other 98%?
There is a lot of potential value in those prospective customers that are being lost. Even if a visitor does not buy something, you still want to create a positive experience, begin building a relationship and, ideally, capture their information.
How and the heck do you do that? With content of course! Do not look so surprised, we are true believers of integrated content and commerce solutions at Brilliance. Content provides the visitor with immediate value and establishes a connection between their world and yours.
Many B2B eCommerce sites have content around their products (i.e. - descriptions, spec sheets, and videos). However, marketing content is different.
At Brilliance, we believe in the importance of good content. We dedicate time and resources to doing it ourselves (like taking the time to write this article right now – we even hired a Content Creation Coach to help us along! She inspires us to write great content while keeping us on track - www.contentcreationcoach.com. She has a book too - Content that Dances). But too many B2B eCommerce sites underutilize the power of content to drive traffic, capture leads, and increase sales and conversions.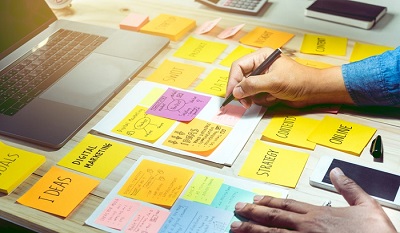 Content marketing, also called Inbound Marketing, allows you to build relationships with lots of prospective customers online. It creates warm leads for your sales department and automates parts of your sales process. As a sales representative, I've gotten leads through our content marketing, used it in my sales communications, and even participated in the creation of content.
How does it work? Here are some of the key elements of a successful Content Marketing strategy.
Funnels
More people are willing to opt-in for information and value that doesn't cost anything, especially on their first visit to a site. Conversion rates are higher for a funnel than for a purchase so you can capture more of that 98%!
A funnel always offers content that is of value to the visitor. It could be an ebook, webinar, video, training, or several other possibilities. Recently, Brilliance created a Platform Comparison Kit to help our visitors understand the options when it comes to B2B eCommerce platforms.
A funnel is a powerful way to kick-start a relationship, allowing someone to get to know your business and what you have to offer. Make sure your site has an effective way to engage visitors so you can continue the conversation.
Blogging
Blogging simply means creating content consistently. It's a platform for you to share value, answer questions, and tell stories. Posting content consistently establishes credibility and positions you and your company as knowledgeable, reliable and valuable.
One major benefit of blogging is that search engines love sites that post new content on a regular basis. Having an active blog boosts your organic traffic significantly.
Blogging doesn't necessarily have to take the form of written blog articles. There are other format options, including video, that are extremely effective. At Brilliance, we turned our blog into a resource center of articles. Generating new content consistently also gives your marketing department more to work with, as it can be repurposed into social media posts and other marketing communications.
Email Marketing
There is a direct relationship between content and email marketing, and a proven correlation between email marketing and increased sales.
There are many powerful ways to use email marketing as part of your eCommerce experience, which we outlined here: Successful Email Marketing Strategies in the B2B Space. But if your email marketing is overly focused on products and doesn't build a relationship with the recipient, your statistics may not be what you want.
How are you providing value in your email marketing communications to keep people coming back? Sharing your blog content is a great way to communicate consistently, stay on the customers' radar, and provide opportunities for engagement.
Take Your Content to The Next Level
Connecting content and commerce is powerful. Not all eCommerce solutions allow for seamless integration between your Content Marketing and your online sales. With an enterprise solution like Episerver, however, you can do some neat things with your content.
On a basic level, you can track engagement of a contact through their emails and opt-ins as well as their purchase history in one place. With Episerver, you can also use that information to personalize the content they see on your site and in the emails they receive. Opportunities for personalization (Personalizing Your B2B eCommerce User Experience) and marketing are plentiful, but only if you are creating content consistently.
Want to set up your business to integrate and leverage both content and commerce? Brilliance can help! Set up a conversation with us today.