Companies with higher customer satisfaction scores have more revenue and profit than those who do not.
This makes intuitive sense. I can think of at least 3 conversations that I have had over the last year with manufacturing companies who tell me that the reason customers choose them over their competition is the great customer service and overall experience that they provide.
We all generally believe that satisfied customers are a good thing, but it can be hard to justify investments in improving customer satisfaction. If you ever wonder about the business case for it, look at the chart below. This is showing you that companies selected based on their high or improving customer satisfaction score (American Consumer Satisfaction Index) greatly outperform the market. (The Long/Short Portfolio is referring to the performance actual performance, before fees and expenses, of an actively-managed long/short portfolio of stocks that are selected based on ACSI score data.)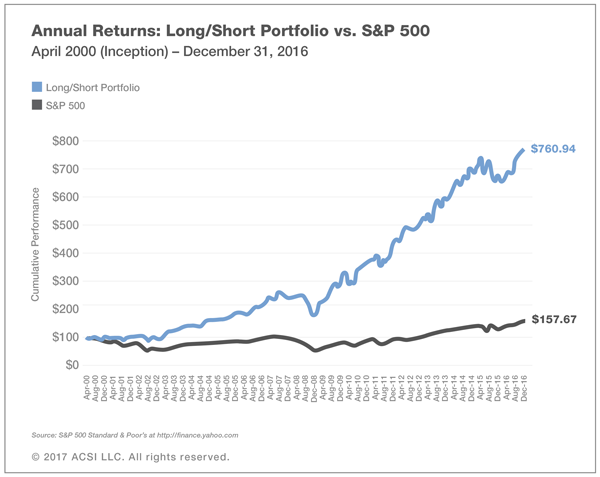 Source: https://www.theacsi.org/national-economic-indicator/financial-indicator
The American Consumer Satisfaction Index (ACSI) is an economic indicator that measures the satisfaction of consumers around the US economy.
While this chart is showing the trend for consumer goods, we know that B2B buyers are people, too and the same logic holds true in Business-to-Business (B2B) sales. Customer satisfaction is a priority – or it should be!
It's a challenge because customer satisfaction comes from so many parts of your company.
Let's look at a few of these areas and see what opportunities exist for improving customer satisfaction in your company.
Employee Engagement
Treat your employees well and they will take great care of your customers.
Marriott's founder was known for saying "Take care of associates and they'll take care of your customers," and this deeply held internal belief is a part of why they are known both for being a top place to work as well as having high customer satisfaction scores.
Treating your employees well includes benefits that provide for them financially and care for them personally. It also includes sharing with them your vision and your purpose as a company and making it clear how they contribute to that purpose.
Ensure employees have a level of autonomy in responding to customers and solving problems. This puts the customer first and mobilizes your workforce to carry out that priority every day.
High quality products
The quality of the physical product you produce has a great impact on your customer experience and customer satisfaction. It doesn't stop there. Consider the packaging. What is the experience when someone engages with your product from the moment it arrives. How easy is it for a customer to use your product? What instructions or other materials are included to improve the experience?
Fulfillment
The speed we receive a product impacts our satisfaction with the experience. How quickly can your customer receive your product? How clear is the delivery promise? Customers value information on when they can expect to receive a product and options for getting it faster. Could they pick it up from a local dealer or pay extra to get it the next day? Improving the ease of customers to get your products quickly and to understand the costs and timeline will improve your customer satisfaction.
Customer Service
Your team's ability to solve customers' problems and answer their questions can either cause frustration or make your customers' day. Your customer service team is handling returns, assisting customers in ordering replacement parts, and helping customers get questions answered about their account. Look for ways to simplify that process and improve the quality of every experience your customer has with your team.
Self-Service
A key part of customer satisfaction is their ability to complete tasks for themselves without speaking to anyone. Provide digital tools that enable customers to lookup information about past orders, payments, and open invoices. Allow customers to easily order additional products at their special pricing via an eCommerce site. Provide a page where customers can initiate a return. The more a customer can do for themselves, the better.
For this to result in happy customers, you want to have a strong User Experience (UX) which means the digital experiences are built with the user in mind. This sounds obvious but is all too often neglected.
Learning from the Giants
CFO's aren't always excited about funding "Customer Satisfaction Initiatives" because the returns aren't immediately obvious.
However, the long-term correlation is clear!
How can smaller companies learn from the investments big companies have made in improving their customer experience?
Join us for our webinar on July 17th, 5 Ways to Improve Customer Experience through Technology: How Manufacturers and Distributors Can Offer Outstanding Customer Service Online
Want to talk sooner about improving your customer satisfaction through digital tools and eCommerce solutions? Schedule a time to chat with us here.