It seems to be all that manufacturers and distributors can think about… Amazon! The expectations that Amazon has created for B2C customers have taken hold in the B2B space.
Just like a consumer shopping for a pair of shoes, your business customers can now go online and find similar products, evaluate different suppliers and compare the lowest price.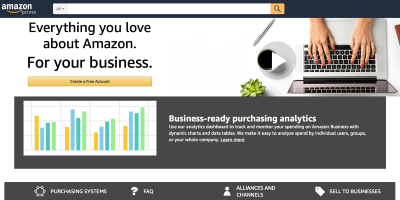 Companies are changing vendors more readily, and if they can't tell why products are different, they are making buying decisions based on price.
Amazon is out to replace the old-school distribution model, which may eliminate the need for many companies. If your business is on the chopping block, that isn't their problem.
Yikes!
I'm probably not telling you anything new. You've likely looked at your options, and may not be able to see a way forward. When many manufacturing and distribution companies evaluate selling online, either on Amazon or on your own, it can feel like you're "damned if you do, and damned if you don't."
(Keep reading to the end for the silver lining!)
Damned If You Don't
Keeping the sales and distribution model of the past is a recipe for a slow decline. Trends are showing that if you hang onto your purely offline model, you will continue to lose market share.
In many cases, the channels that make up a large part of your business are also struggling. While they are loyal, the business they generate is likely to shrink. Clinging to those partners may just mean that you go down together.
Manufacturers are finding themselves fulfilling and shipping out orders that distributors are selling on Amazon. Other purely online competitors are rising up as well. They have eCommerce sites and a lean model.
Uber disrupted the taxi industry the way Amazon is disrupting the world of manufacturing and distribution. If taxi companies had embraced the potential of the digital landscape, come up with their own mobile app, or leveraged the tools that were available to them, it could have been different. Because they did nothing, Uber has almost completely replaced them.
That is the risk. And it's just a matter of time.
So the status quo is really not an option.
Damned If You Do
For companies that have operated in an off-line business model for decades, diving into eCommerce is scary. There are a ton of choices to make, and you don't want to invest poorly.
Having put it off this long, you are already late to the party. Of the (Gartner) survey respondents who sell products to other businesses, 56% have already launched a B2B commerce site. An additional 9% have plans to launch one before the end of 2020, and 4% plan to launch after 2020.[i] You are up against competitors who are more experienced and have more resources to invest.
You are worried that as soon as you dip your toes into the eCommerce world, you will lose business from your current relationships and systems.
You may also be fighting a battle internally. You have a staff of sales people who may see eCommerce as a threat to their job. They feel like the company is taking steps to replace them.
Unlike a startup, you have existing relationships, both internally and externally, that you need to manage. Is it possible to move into the digital commerce space without upsetting your current relationships?
It Is Possible
The path forward looks a little different for every business. It's not a one-size-fits-all solution. But it can be done, and I've seen companies navigate it successfully.
As you move forward, the most important thing is to work toward creating a Win-Win situation. Ideally, your internal team sees how it could be beneficial for them by growing sales and commissions, and becoming more efficient. There are tools you can provide to your distributors so they also see a benefit from your digital leadership.
And, of course, when an eCommerce transition is executed strategically, you are able to capture a larger market share by reaching beyond your existing networks.
eCommerce isn't going anywhere. It's time to take the next step.
On our webinar, "Competing with Digital Giants," I discussed examples and talked about some specific ways you can offer a digital experience that works for your business and provides value that Amazon can't compete with.
Click here to view the webinar today.
---
[i] Gartner Research, Survey Analysis: How B2B Sellers Are Leveraging Digital Commerce, Jason Daigler, Christina Klock, Published 8 November 2018, Figure 1