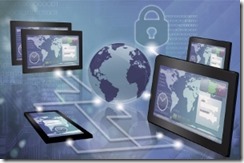 When preparing for your mobile B2B eCommerce solution, you may be unsure what the best technology environment for your solution would be. Where should you host your site? How do you ensure that the site will load quickly and that the data will be secure? What happens if the server goes down in the middle of the night? Do you want to support that internally?
Windows or Linux?
Do you have a preference for what operating system your eCommerce solution will run on? It is important to identify this up-front. Many of our B2B clients are already using Microsoft Dynamics AX, Microsoft Dynamics NAV, or Microsoft Dynamics GP, and based on that they have a desire to built their eCommerce solution on the Microsoft stack. If you are already using Microsoft SQL Server or Microsoft ERP software, there are benefits to using a Windows-based, SQL-based solution for your web development as well. This can be true even when they are hosted in different environments.
Internal or External Hosting?
Speaking of different environments – where will you host your website? Some of our clients choose to host their websites themselves and others choose for us to take care of their hosting for them at our managed data center. Regardless of if you choose to host with Brilliance, we recommend that you host your website off-site at a data center that is set up to be responsive to the needs of an eCommerce site and has taken the steps necessary to enable you to become PCI compliant.
Cloud Hosting
You can also choose to host your website on cloud platforms like Windows Azure. When looking at Azure or other cloud-based hosting platforms, find out what the process will be and what the expected response time is if your website goes down. In a situation where site outages cost you money, it is important to understand the potential downtime you may face in the case of a network outage.
Cloud hosting offers the promise of the ease of scaling up and down quickly. It can also seem inexpensive depending on how you calculate your costs. In many instances, if you factor in the costs for the level of support you will want, these options end up being more expensive than managed virtual or dedicated hosting options.
Server Resources
Specifically when optimizing sites for mobile, performance and load-time are critical. This means that you will want to ensure adequate resources for your hosting solution and you will want the ability to add resources as your traffic increases. Virtual hosting options offer scalability, but depending on the underlying architecture of the virtual solution, the performance of the virtual solution cab be slower than a dedicated server. We have customers where we build hybrid solutions including virtual web servers and dedicated database servers. The best solution is dependent on your traffic, database size and the expected speed of growth.
Content Delivery Networks
Because load time is important for mobile devices, Content Delivery Networks (CDNs) can be another important consideration. CDNs have servers at different geographic locations throughout the Internet. The goal of a CDN is to serve content from the location closest to the end-user to enable the load time to be faster. CDNs are typically used to serve static content like images and Javascript.
System Integrations
A part of the environment plan will need to be a definition of what other systems need to be integrated with your eCommerce site. This can include your ERP software, CRM software, and other company databases including MSDS sheets, spec sheets, and more.
Talk with Us
Are you looking for guidance in planning your technology environment B2B eCommerce solution? Contact Brilliance today for a free consultation.