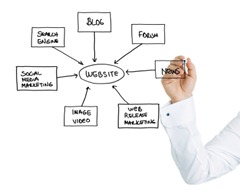 For many manufacturing and distribution companies, a content management system (CMS) is an important step in creating a flexible platform which allows your business to leverage the Internet.
Here are 5 key reasons your team should evaluate a content management system (CMS):
Control over your website
A content management system allows you to easily make changes to your content without knowing any code. This allows you to add pages, add videos, upload PDFs, and much more – without waiting for any external party to make the changes for you. With a content management system, you can allow users to make specific changes based on their business role, not based on their technical know-how. You can have certain users that can upload videos – but (if desired) are limited from editing other areas of the website. You may be interested in setting up a content workflow that allows certain users to make changes but requires other users to approve those changes before those changes go live.
Efficiency for your team
Consider what tasks your business spends time on today that could be made more efficient by sharing information online. Common tools we see are sales reps portals, supplier portals, online parts stores, customer portals, helpdesk, and knowledge base software. Typically users are required to log in to see information specific to them. The content management system makes it easy for your team to maintain these online portals and controls the user login and security groups needed to ensure that users only see the information they are entitled to.
Built for Search Engine Optimization (SEO)
Freshness is key for great search engine rankings. By allowing your company to easily edit your website, and have tools like blogs, news releases, video feeds and more – a content management system provides search engines with the goodies they are looking for to share with users. Well formatted URLs filled with keywords and optimized page titles and META descriptions are also key for your website. Your content management system allows you to easily manage all of these settings through one central interface. When set up correctly your CMS can also eliminate duplicate content and handle the 301 redirects that you need to maintain a top ranking.
Offer rich tools to your users
Whether you need online forums, pages in multiple languages, a document sharing portal, online forms that save into Excel or sync to your Customer Relationship Management (CRM) software – a content management system has tools to enable all of these functions. By building your website on a CMS, you position yourself to be ready to expand using powerful web software.
Share content into mobile
It is estimated that by 2014 more Internet visitors will be coming from a mobile device that will be coming from a desktop or laptop computer. While most websites are visible on a mobile device, they are often not easy to navigate unless they are specifically optimized for mobile devices. Content management systems allow you to optimize your website for mobile and still use the same content that you have set up for your non-mobile site. This allows your team to edit and create content once and use it many times over.
Which content management system is right for you? Contact us today at 414-425-4069 x.150 to schedule a free initial consultation.