Planning for Your ERP Integration with AspDotNetStorefront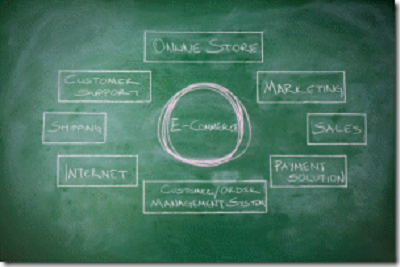 Many businesses decide that integrating their eCommerce store with their Enterprise Resource Planning (ERP) software is a requirement for the growth, profitability, and sustainability of their online business. If you have reached this point, the good news is that AspDotNetStorefront (ASPDNSF) is structured with strong support for integration with back office systems. Up-front planning is a critical part of the process for your integration project.
Planning the Data Flow
One of the first decisions you need to make is what data you will integrate and in which directions data will flow. This is critical to avoid data conflicts and simply the architecture of your integration.
At a high level, here is an example of some common data touchpoints for an eCommerce/ERP integration:
Orders and Order Details – from your web store to your ERP
Customer / Account Information – from your web store to your ERP
Product Pricing and Inventory - from your ERP to the web store
Order Shipment and Tracking Information – from your ERP to your web store
Within each of these areas, there are many potential issues to address. For example:
Do customers have specific pricing? If so, what will the account creation process look like on your web store, and when will they be able to see their pricing? How will the data flow to accommodate that? Will customers place their first order at the public price?
Will customers buy with a credit card? If so, when will the card transaction be settled? Typically your merchant account will require you authorize paymatt on checkout and then to charge on shipment. Do you have multiple shipments per order? Will they ever settle for a different amount than the transaction was authorized for?
How frequently does each of these data points need to be updated?
These are a few of many questions that arise as a part of the planning process and need to be carefully considered as a part of planning for your integration.
It is also important to understand the data structure of AspDotNetStorefront. For example, products are stored in ASPDNSF using a product and variant data model. Pricing and inventory are stored at a variant level. If you have sizes and colors for your products, those can be stored at a product level, but if you are tracking inventory and pricing separately for prices and colors there are many cases where it is best to track that at a variant level.
Integration Approaches
There are a few different routes you can take in integrating AspDotNetStorefront with your order management system, and some important things to consider as a part of each.
Pre-Built Integration
Many pre-built integrations exist for AspDotNetStorefront and this is a great place to start your research. If a pre-built integration exists for your software here are some things to understand.
Versions – Does the integration support your version of your ERP software?
Data Touchpoints – Does the integration support the data touchpoints you need in your business? Is each touchpoint charged for separately?
Custom Needs – Do you have custom needs for how the data is transferred and can the integration accommodate that?
Reliability – What systems are in place if a data transfer fails? How reliable is the integration?
Security – Where is your data hosted? What is the security of those systems?
Many of the pre-built integrations are a SaaS model and it is important to understand where your data is hosted.
Cost – Is this a one-time cost or an ongoing cost? What will your total cost of ownership be for this integration?
Custom Built Integrations
While a custom-built integration is more expensive in the initial cost of a pre-built integration, in some instances companies find it to be a more attractive option. This may be because the pre-built integration won't meet your requirements, or because the total cost of ownership of the custom-built integration is less expensive than the pre-built integration. The good news is that a custom built integration can be built to your specific requirements, but it is important to thoroughly document and understand your integration requirements before starting.
Here to Help
At Brilliance Business Solutions, we help companies plan for their ERP integration with AspDotNetStorefront and we have managed and implemented projects using both pre-built and custom-built integrations. We will help you document your requirements and evaluate integration options that exist for you. If you are interested in help in this process, please give us a call at 414-425-4069 x150