Getting Tough with AspDotNetStorefront!
PCS Mobile had a desire to redesign their AspDotNetStorefront sites while also accomplishing a number of site and business improvement goals.
Their top priority was to improve the usability of their GetToughToday.com site, both for their external customers and their customer service representatives. To accomplish their goal, Brilliance Business Solutions worked alongside the PCS Mobile team to implement a number of improvements.
Upgrade of the AspDotNetStorefront environment from an 8.x to a 9.3 multi-store
Integration of the AspDotNetStorefront multi-store environment with Etilize
Integration of orders placed on AspDotNetStorefront with Sage
And integration with various vendor pricing and inventory feeds with AspDotNetStorefront.
As the PCS Mobile design team worked on the graphical look and feel of the site, Brilliance focused on the skinning, upgrade and integrations – allowing each team to work in tandem.
Upgrading to AspDotNetStorefront 9.3 multi-store provided PCS Mobile with the framework they needed to have one central administration panel for order and customer maintenance, easing the burden on customer service representatives.
Integrating with Etilize provided PCS Mobile's customers a number of benefits. The implementation of faceted navigation/filters allows PCS Mobile's customer to easily narrow their results down to the specific specifications they need for their environment. Once narrowed down to a specific product, the customer now receives relevant product data that includes hi-resolution images, technical specs, and model details. Once integrated, PCS Mobile gets the comfort of knowing that product specs are continually up-to-date.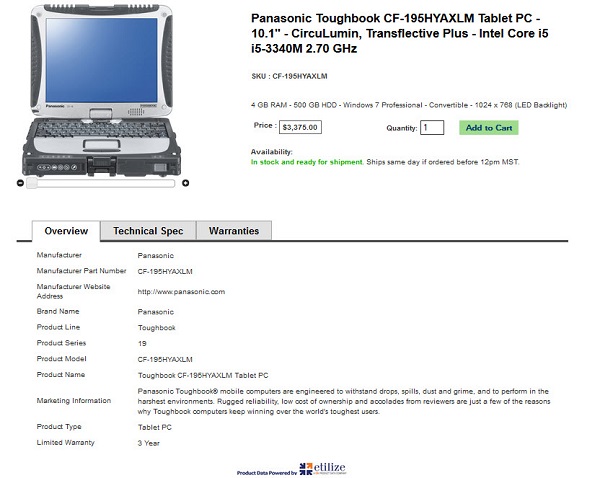 From a conversion perspective, integrating with various vendors for pricing and inventory ensures that PCS Mobile customers' know if a product is in stock and ready to ship.
PCS Mobile is well on their way to accomplishing their online goals, and a winning combination of AspDotNetStorefront and Brilliance Business Solutions made it possible.