B2B Digital Commerce Tool Kit
One of the things I love about Brilliance is our constant quest for the latest industry insights and sharing all of that information with our clients and audiences ("Learners" is one of our Values).
We have shared many excellent B2B digital commerce resources over the years, which can be found on our Resources page. To make it even easier for you to obtain our top ten most popular downloads, we have combined them all into a handy B2B Digital Commerce Tool Kit.
This year's B2B Digital Commerce tool kit includes our B2B eCommerce Planning Guide, two different digital commerce platform comparison sheets, and various tip sheets and guides. Read about each download below. Ready to download? Click here.
B2B eCommerce Planning Guide
Are you in charge of an eCommerce project, but aren't sure where to start?
With our 19-page workbook, you will:
➜ Define your offline & online sales channels to create a successful roadmap for your company
➜ Answer the most important questions about your B2B eCommerce needs
➜ Learn how other companies have solved common challenges
If you are not sure which B2B digital commerce platform to choose or are currently using AspDotNetStorefront, Shopify, or WooCommerce and are looking at other options, look no further.
We have years of experience working in digital commerce and comparing B2B digital commerce platforms. Our choice for growing B2B sellers is BigCommerce.
5 Common B2B Digital Commerce Challenges
Amazon Business hit $10 billion dollars of annual revenue in 2018 after 4 years and is ranked as the 6th largest industrial distributor in the US by MDM.
Ignore digital commerce at your own peril.
What you will learn:
➜ How to grow your revenue up to 25%
➜ The % of other B2B businesses implementing digital commerce
➜ Gaining buy-in from your sales team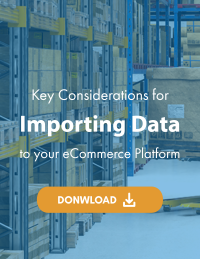 Data is a huge part of good eCommerce. Detailed and accurate data gives you the ability to create a better, more streamlined user experience. It can allow you to personalize a customer's information and recommendations, which can increase their sense of trust and even generate more revenue.
➜ Types of data
➜ To import or not to import?
➜ Timing is key
5 Steps to Digital Growth
Almost 60% of existing midsize enterprises will, by 2025, have been killed by a failure to anticipate, take part in and conform to the making of the digital ecosystems that are currently just emerging.
Discover the change necessary to survive. You will learn:
➜ How to create a technology vision
➜ Who your organization needs you to be
➜ What is required for long term success
Build a Roadmap for Growth
Many companies are unable to keep pace with the digital experiences of larger competitors due to insufficient investments in marketing systems.
Use these 14 questions to benchmark your capabilities in four key areas. You will learn:
➜ 14 capabilities that support your success
➜ What functionality you need to compete
➜ How to build a case for better tools
5 Manufacturing Priorities
Manufacturers are focused on increasing revenue and gaining efficiencies in a market that is rapidly changing. Learn how digital commerce supports your existing priorities and will fuel your profitable growth.
➜ 5 common manufacturing priorities for which digital will drive success
➜ How to increase revenue by up to 25%
➜ Methods to drive efficiency using digital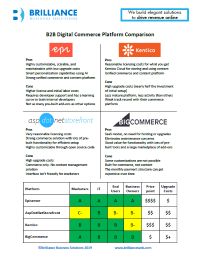 B2B eCommerce Platform Comparison Sheet
Don't waste your money on the wrong solution. Educate yourself today.
This handy print-out covers the pros and cons of Episerver, Kentico, AspDotNetStorefront, and BigCommerce.
It also includes platform ratings by marketers, IT professionals, end-users, and business owners.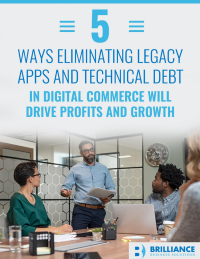 Guide to Driving Growth through Tech
Technical debt strangles business growth and innovation. Legacy business systems and web applications with high technical debt get in the way of your ability to lead IT effectively.
You will learn:
➜ 5 ways that eliminating legacy applications will drive profits
➜ How to attract great IT talent
➜ Which market trends in manufacturing require your attention
Personalization Guide
By 2018, organizations that have fully invested in all types of online personalization will outsell companies that have not by more than 30%. Learn how to grow profits and market share with our guide.
You will learn:
➜ 5 strategies for implementing personalization, specific to B2B
➜ Recommendations on how to use email to increase customer lifetime value
➜ Techniques you can apply to increase profits by up to 15%
For even more resources and industry insights, check out our links page. If you would like a particular topic covered in next year's B2B Digital Commerce Tool Kit, please don't hesitate to reach out and provide your input!
Interested in learning about our digital commerce solutions?