AspDotNetStorefront 9.5: Is Now the Time to Upgrade?
On January 13, 2015, AspDotNetStorefront 9.5 was released. This release includes many improvements – most notably an extensive redesign of the administrative interface.
As you consider upgrading to 9.5, there are several steps to that decision, but one of the first involves understanding what benefits to you the new version holds. Here is a peek at 9.5 and some of the improvements that will make your life easier.
Simplified and Improved Admin User Interface
The redesigned admin user interface in 9.5 will enableeCommerce site managers and customer service reps to work in AspDotNetStorefront with greater ease. Users will experience a consistent method of filtering, finding and drilling down into individual records across the many different data collections. A left side menu offers quick access to common store admin functions.
Faster Inventory and Price Maintenance
The Bulk Price and Inventory page have been improved to make it easier to filter to a specific set of products that you can bulk set a sales price for of X% off. In the screenshot below, we show how we can filter for products that are between $50 and $100 and then set a sales price of 5% off of the list price in bulk.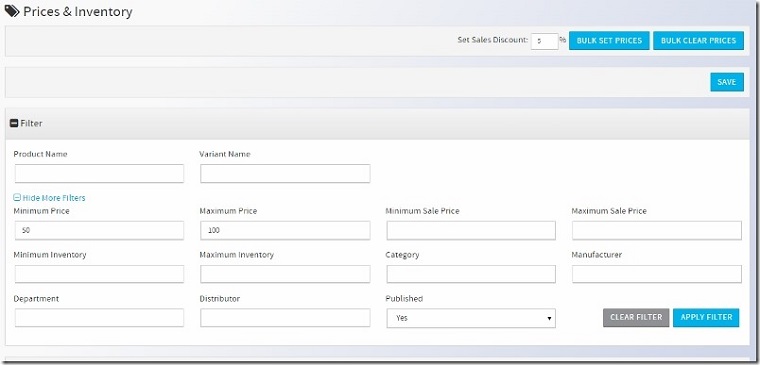 Importing Shipping Tracking Numbers
AspDotNetStorefront 9.5 also offers improvements in managing carrier tracking numbers. While most of our eCommerce customers have the marking of orders shipped integrated with their fulfillment software, it is nice to have the ability to quickly upload shipping tracking numbers from a CSV file. This is offered via the Manage Carrier Tracking screen.
Efficient Management of Products
As a part of the admin, redesign isn't simply a new look, Vortx has redesigned the UI to require fewer clicks and enable you to manage your products with less time. One example is the addition of 'Quick Adds' to the product pages. It used to be that if you were adding a product and realized that you didn't have the Manufacturer, Distributor or Quantity Discount that you needed for that product, you would have to leave the 'Create Product' screen to go and add those items elsewhere. Now, you can stay on the 'Create Product' page and click 'Quick Add' and quickly fill in the required information and continue with your product add.
In addition to the admin UI improvements, AspDotNetStorefront 9.5 includes changes that offer performance improvements and newer technology support. These include:
Conversion of ntext to nvarchar (including an update to existing data)
Additional data maintenance on the monthly maintenance page, enabling your database to run more efficiently.
AspDotNetStorefront now natively runs on .NET 4.5 Framework
That's not all
There is more to 9.5, but this is all we will cover today. Watch for another blog post where we will discuss improvements in 9.5 that will help you gain more traffic and convert more visitors.
Is now the time to upgrade?
Deciding whether or not to upgrade requires a complete look at where you are today and where you want to go. What version are you on now? What customizations have been made to your current site? Which customizations do you still need in the future? What are your plans for your eCommerce site this year? If you are working on the cost versus the benefits of upgrading, let us help you. We are experienced in helping customers get the answers they need to make an informed decision. Contact us for a free consultation.