6 New Features for Marketers in Evoq 8
Evoq 8 was released on January 27, 2015, offering exciting new features for marketers and corporate users. Here are six features that will provide you the tools to create a more effective corporate site and reduce the amount of time you have to spend on it.
1. New Content Editor Interface
The user interface for content editors in Evoq 8 is designed to make your life easier. It simplifies activities allowing you to make edits in less time.
Drag and Drop Images: You can now drag and drop images from your desktop onto your web page.
Inline Image Editing: When you resize an image in the editor it saves a new image instead of simply changing the properties of the image. This enables you to optimize the image file sizes quickly and minimize your page load times.
Visual Page Management: Visual Page Management allows you to see a snapshot of the page within your page listing, allowing you to easily identify the page you are looking for.
2. Analytics Dashboard
Evoq 8 includes an analytics dashboard that is driven by analytics data gathered within Evoq.
Get data quickly on the effectiveness of your page, by looking at how many users have come to this page, how much time they are spending there, what devices they are using, and what pages they leave to look at next – all without leaving Evoq.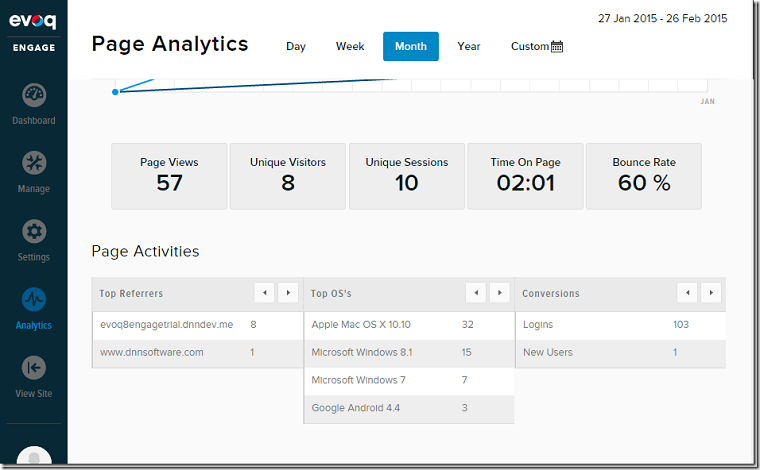 The Navigation Summary is a great view of the analytics that show what pages users came from and what pages users are departing to from the page you are on.
The Asset Manager has experienced a facelift to make it easy to find the image you need, edit it, tag it and use it.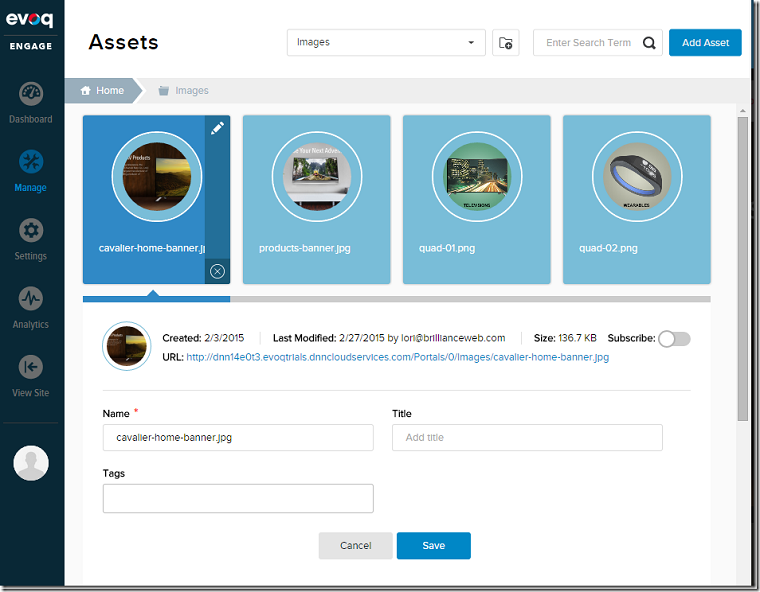 Evoq 8 has a drop box integration allowing you to drag and drop images into your Evoq Asset Manager and have them immediately uploading to your Dropbox account. The Dropbox integration is one of many integrations that Evoq offers – including Box, Marketo, and Google Analytics.
4. Content Layout Module
Evoq's content layout module allows you to quickly choose a layout your content from a set of pre-defined layouts. This makes it easier to create great looking pages without knowing the code.
(Source: http://store.dnnsoftware.com/home/product-details/dnn-evoq-content-8)
5. Page Level Workflow
Workflow allows content to go through a series of approvals before being published. In the past, Evoq offered workflow at a module level. With Evoq 8, workflow can be associated at a page level and is designed to simplify the time you need to spend making and reviewing changes.
6. Personalization Rules
Evoq 8 enables you to change content on your site depending on personalization rules that you define through a powerful rule engine.
How would it benefit you to display a different promotion based on where a user is coming from?
You can create rules based on:
User Roles
Geographic Location
Language
Device Type
Page Visited
Link Clicked
Last Activity Date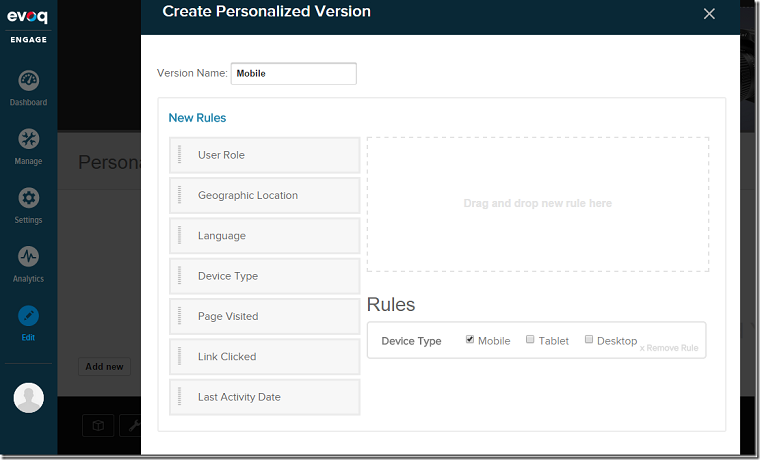 There is also a personalization preview that allows you to quickly preview the display for the personalized version.
What's More: Enhance Evoq 8 with Commerce
Brilliance offers the ability to add powerful eCommerce features to Evoq through an integration with AspDotNetStorefront. Pairing these new Evoq 8 features with the latest offerings in AspDotNetStorefront 9.5 can provide a powerful solution for your company.
Interested in a Closer Look?
If you have questions about how Evoq 8 could work for you, contact us for a free consultation via our website or give us a call at 414-425-4069 x3.