Our audacious explorer is back! Nigel Leggemen's adventures in building his DreamRover® taught us some important lessons about taking on a complex project, like an eCommerce development, without the proper support.
Despite some setbacks, Nigel is excited to get started exploring! He is so confident in his abilities (sound familiar?) that he is just cruisin' along to some tuneskis. He sees something interesting and just goes toward it with all the abandon that we've, unfortunately, come to expect from our intrepid explorer.
Whether you're building a house, storming a planet-destroying non-moon, or writing a misadventure story, a blueprint, outline or some other type of plan to get started and keep on track is key.
Building, or rebuilding, an eCommerce website is no exception. We believe this so strongly we created a visual guide to prove our steps. We don't simply jump into new projects without a plan.
Nigel didn't see the vines ahead of him and finds himself in a jungle. Since he insisted on this solo adventure, he is, as you can imagine, all alone. In a jungle. With no idea what to do. He's trapped!
As Nigel contemplates the life choices that led him to be stuck in this isolated jungle, allow us to remind you that you, in fact, are not Nigel. You are not alone. In a jungle. And even though the state of your current eCommerce woes may not be ideal, it's also not hopeless.
While we do not relish the pain and discomfort of any client, we've seen a lot of woes. Here are just 5 of the most common woes we see. We have so many ideas on how to go about correcting woes and are happy when businesses come to us for help.
After considering his situation, Nigel comes up with a plan to untrap himself. Yes, it involves UN-building his DreamRover® a bit, but at least it's not completely back to the drawing board. Sure, he lost a bit of time, 3.725 hours to be precise, but at least he has his trusty manual. He has also developed a sense of flexibility and creativity so that snags don't trap him for long anymore.
In the world of eCommerce website development, flexibility is important. Yes, we want everyone to stay focused and on track with any project, but things happen that can cause delays or even complete stops. At Brilliance Business Solutions, our project management team has thoughts as to how to keep a project on track but also allow for some flexibility for when things happen.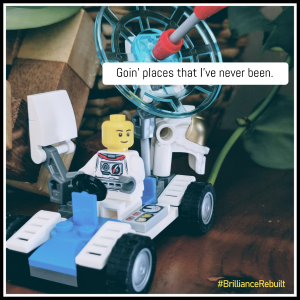 Luckily, Nigel is able to get his DreamRover® free of the viney jungle and rebuilt. He's also had time to think about his life choices, again, and comes to realize he really does need a detailed plan for his adventures going forward. He needs a way to measure his success--besides simply returning home alive with some stories, though that could still be considered a successful adventure to any intrepid explorer.
At Brilliance, in addition to a scoping project that details the work required, schedule, and cost for a specific project, we have developed a business case process that predicts the value of eCommerce for your specific business situation. Just another tool to help you know how to measure the success of your eCommerce website.
We've had a lot of fun creating Nigel's story and bringing it to you. You can see the series in its original form on our Instagram page.
We're glad his misadventures can provide teachable moments and hopefully, Nigel learns some lessons too. We also hope Nigel is an inspiration. After all, even though he made some mistakes along the way, he still explored unknown territory and expanded his world. Too many businesses cling to the security of their current ways when there is great potential in the online space.
It's time to embark on your own adventure in eCommerce. And since we ARE professionals, we hope you'll ask for help when you're ready with a free consultation.